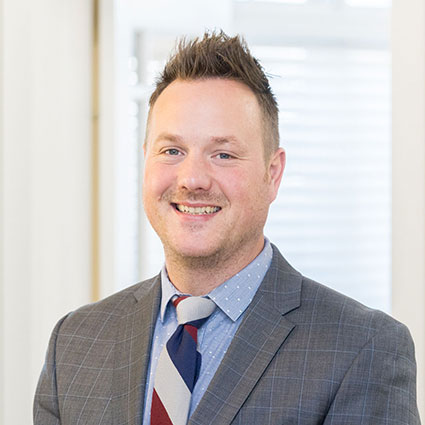 Meet Dr. Justin Boyce
Dr. Boyce is passionate about providing the best in patient care, and he is grateful for the opportunity to make an impact on patients' lives and make a difference in the community.
Discovering Chiropractic
As an undergraduate, Dr. Boyce majored in biology with the idea of becoming a veterinarian. He worked for a vet for the summer and discovered he didn't like it as much as he had hoped. At the time, he worked out at a gym that was owned by a husband and wife who were both chiropractors. As he learned more from them, his interest was piqued.
Since he is from St. Louis, Dr. Boyce had the opportunity to visit Logan College of Chiropractic to learn more about chiropractic care and how it can improve lives. He felt this was the way he could truly help people, and he enrolled.
He earned his Doctor of Chiropractic in 2003 and purchased a practice in Lincoln Park, where he and his wife practiced for almost fourteen years. In 2017, when their family relocated to La Grange, they opened Boyce Chiropractic here.
Family Focused
Providing care for every member of the family is Dr. Boyce's passion. He strives to help patients understand that by maintaining their spinal health and nervous system integrity, they can maximize their overall wellness and get so much more out of life. Over his years in practice, he has seen countless patients reap the rewards of better health through chiropractic care, and that ignites his passion to spread chiropractic care to even more people.
Dr. Boyce is Webster Technique certified, to provide the best in prenatal chiropractic care for our pregnant patients. We also specialize in pediatric chiropractic care, with the goal of helping kids set the foundation for a lifetime of true health and wellness.
EXPLORE CHIROPRACTIC
Away from the Office
Dr. Boyce has played ice hockey since the age of nine, and his two kids currently play. He and his wife Dr. Keuss enjoy spending time together as a family and watching their children's hockey games.
Get Started Today
Contact us today to book your first appointment.
---
Dr. Justin Boyce | (708) 308-4585