About Boyce Chiropractic
Our Vision
At Boyce Chiropractic, our vision is simple—we want to help patients become healthy and raise healthy and happy families. Our focus on family is the heart of our practice, and we care for every patient like they are our own family. It may sound like a cliché, but we truly treat every patient the way we would want to be treated.
Our History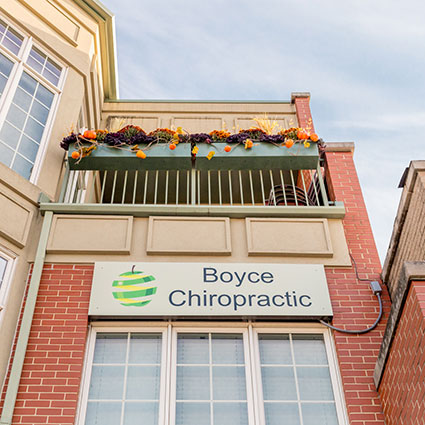 Dr. Boyce and Dr. Keuss both attended Logan College of Chiropractic in St. Louis. When Dr. Boyce graduated in 2003, he chose Chicago because it's a big city that's still close to his family in St. Louis. He worked as an associate for a year with a chiropractor who was getting ready to retire, and then purchased the practice. Dr. Keuss joined in 2005, and they practiced in Lincoln Park for almost fourteen years.
When their family moved to La Grange in 2017, they decided to offer their family-centered care to their new community and opened the practice here. They are committed to giving back to the community, both through wellness events and through charitable donations. Every new patient fee of $20 is donated to a local charity, and we support several different charities in this way.
MEET OUR DOCTORS
Focusing on Education
We want our patients to understand that chiropractic care is not just about taking care of back or neck pain. It can give you the mobility to do the things you've given up on doing. We have patients tell us all the time that they had forgotten what "normal" feels like, and that they're grateful to be out of pain—and even more grateful to be able to play with their kids or grandkids, or enjoy a game of golf, or just get through their day without pain medications.
Many patients are surprised that chiropractic care can provide an effective, long-term alternative to many medications. When they understand the magnitude of the opioid problem in this country, patients are relieved to have found a safe, natural alternative.
Start Today
Contact us today to get started with care. We look forward to welcoming you.
---
About Boyce Chiropractic | (708) 308-4585