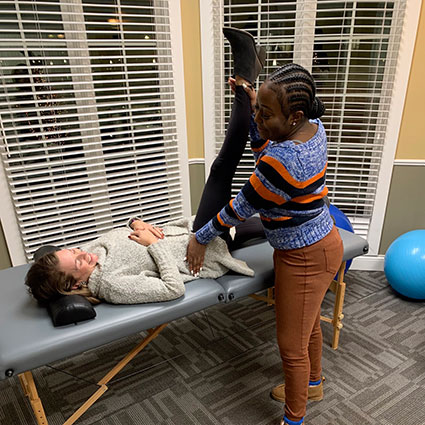 Chiropractic Care
What Does Chiropractic Care Do?
Your nervous system controls everything in your body and everything you do by delivering messages from your brain to your muscles, cells and organs. When there is stress or irritation in the nervous system, messages don't get delivered properly and pain, discomfort, dysfunction and immobility can result. Since your nervous system runs through your spine, any misalignments in spinal bones can put pressure on the nervous system.
Chiropractic care is a natural health care method that works with your nervous system and musculoskeletal system to ensure that everything is properly aligned and working in unison, as it should. We accomplish this through gentle chiropractic adjustments to restore vertebrae to their ideal alignment.
Who We Help
We are a true family practice, treating patients of every age—even newborns. Many of our adult patients seek our care for neck or back pain, headaches, migraines or extremity pain such as shoulder, knee, ankle or wrist injuries. Parents often bring their kids for such common childhood issues as colic, ear infections or sleeping problems. Many of our patients are active families, so we also treat injuries associated with "weekend warrior" activities or recreational athletics.
Over the course of your care, we will provide progress reports so you can see how your body is improving and moving towards your goal. Once we achieve that goal, we will shift you to maintenance care, to keep your nervous system and your body moving and functioning at their best.
NEW PATIENTS
Our Techniques
At Boyce Chiropractic, we offer a variety of adjusting techniques to tailor care specifically to your needs and goals. Our primary adjusting method is Diversified, which is a traditional hands-on technique. We also offer:
Activator Methods®
Active Release Technique® (ART®)
Cox flexion distraction
Thompson drop table
Webster technique
We focus exclusively on chiropractic, which has the ability to restore proper alignment so your nervous system can work optimally. When that happens, your body is able to heal itself and function and move as it should.
Start Today
Contact us today to book an appointment for yourself or your family.
---
Chiropractic Care | (708) 308-4585